A European Facial is a deep cleansing treatment for the face and neck. Begining with a cleansing to remove dirt, grease and other comedogenic build-up this facial is gentle enought to be used monthly for mainting fresh, beautiful skin. The next step in the facail is an exfoliation which buffs away dead cells that cause flaky, dull looking skin.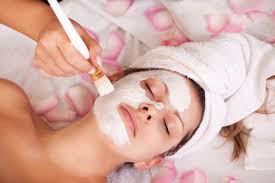 Some of the benefits of a European facial are:
• unclogs the pores and removes all impurities including black heads, whiteheads and pimples
• detoxifies the skin for better circulation of blood to the face
• relaxes tension in the face and reduces the onset of headaches between the eyes
• stimulates cellular renewal
• reduces fine lines, age spots, and blemishes
• hydrates the skin for a rejuvenated, youthful look
European Facial: Deep cleansing, steam and exfoliation begin this customized facial. It is followed by a replenishing mask that leaves skin renewed. A face, neck, shoulder and hand massage enhances the pampering.
Express Facial: This shorter version of our European Facial includes a cleanse, exfoliant, mask and finishing with day care.
Facials are available on Wednesdays by appointment.
Gentlemen's Facial: Similar to the European Facial, this treatment replenishes and balances the natural activity of skin. This luxurious treatment maximizes natural oils and moisture levels for a refreshed result.
Specialty Facials: We'll choose from four distinctive facials – skin smoothing, purifying, ultra-moisturizing or anti-aging. Including an additional Exfoliation and Mask. These Facials are pampering and instantly gratifying. You'll see impressive results when treating your skin's specific needs!